Spring 2017
---
Which Way the Wind Blows
by Luanne MacDonald
---
Like many Mainers, Mac and I enjoyed some much-needed rest in sunny Florida this past winter. A "digital detox" also helped create a much more peaceful vacation. Pressing the pause button for a few months allows one to reassess one's life and discover a renewed sense of purpose. I was able to do a little research in Naples and Palm Beach while in Florida. It is always a pleasure observing young and energetic new chefs who are creating the culinary scene in these hip cities. And now spring is here and I am ready to get back to work helming the finest restaurant on the Maine coast!
In addition to the annual paint and polish, we changed the color in the dining room to gray with white trim. (Gray is the new beige you know!) We did incur roof damage from the heavy snow. It ruined the brand-new paint job (Twice!), which had to be redone! And we suffered damage to the air conditioner and light fixtures! Thank goodness for insurance. We've installed comfy-new dining room chairs and had the bar's hardwood refinished. It's always fun to recreate the place every year for our customers and our selves.
On Monday, March 6th the Matthew Lanigan Bridge closed for 45 days while work is done to bring in its replacement. The pedestrian bridge is open and Durrells Bridge Road is a great detour so you can get to us either way. The closure is expected to last for as much as 45 days, but there will be some one-lane closures. Hopefully we will have a single lane; at least by Easter!
We work hard to satisfy all our guest's expectations. Susan, Paul, Jason and I have been busy trying to create a great food, a great wine, a great service and a great dining experience. As the airlines like to say, we know you have lots of options, thank you for choosing Hurricane Restaurant. It is our mission to make our great restaurant better and better. See you soon!
---
Action Packed Opening on Easter & Patriot's Day Weekend
Opening Day, Friday, April 14th Lisa and Don perform on Saturday night, April 15th

Easter Brunch and Dinner on April 16th

Patriots' Day and Red Sox party on April 17th. Games starts at 11:05 AM in the bar, we'll have a huge spread as usual. Don't miss the fun!

Public Suppers return on Tuesday April 18th

Wine Wednesdays return on April 19th

Prix fixe seven days a week except holidays, 5 to 6 PM.
---

And the Winter-Hero-of-the-Year Award Goes To…
Susan McGurl!
It's a lonely job, but Susan somehow manages to be the sole Hurricane employee from the first of January until opening day preparations begin. Sue comes in one day a week to hold down the fort while the rest of us are on vacation. She pays the bills, checks the messages and makes sure the building is holding together come winter storms and super tides. Sue is dedicated, efficient and there's no telling where we'd be without her. Thank you, Susan McGurl, for who you are and all you do for Hurricane!
---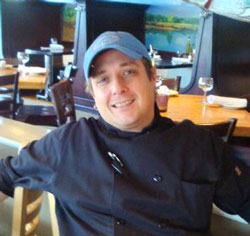 by Chef Jason Leighton
This spring we will be featuring lots of locally sourced seasonal produce and sustainable seafood choices. And we will be offering some new and exciting dishes, particularly on our lunch and small plates menus. I will be working tirelessly to source local produce and Maine-made products to weave into our ever-changing menu.
Working with local farms such as Mousam Valley Mushrooms and Pineland Farms we will continue to use these super-fresh products in our daily specials and seasonal menus. I will also be working very closely with our main fish purveyor to source local sustainable fish and shellfish. Tom Robinson at Taylor Lobster Company supplies us with a huge variety of Maine oysters, both wild and farm raised. I often learn about the newest oyster farms before their oysters are available to the public. This allows Hurricane to remain the lead shucker when it comes to oysters in the Kennebunkport area.
You'll also find favorites such as local cod featured with local little neck clam "pan chowder" and local blue fin tuna when in season. Another new item this spring is a shaved kale salad with roasted beets and black-garlic buttermilk dressing. Our small plates and bar menus will offer naan-bread pizzas, local Peekytoe crab cakes and yellow fin tuna nachos.
On our lunch menu you will find some delicious new sandwiches, individual vegetable and local cheese Stromboli's and a rotation of rice and noodle bowls featuring seasonal vegetables with an array of different dressings, sauces and garnishes. At dinner perennial favorites like the grilled beef tenderloin with butter whipped potatoes and sun dried tomato-Gorgonzola sauce and the Statler chicken with orzo mac & cheese will compete with a new favorite: Braised beef short rib with rich braising jus.
You will be hard pressed to make a decision when you see the delicious seafood dishes, which change nightly. As always, we will continue to serve the menu favorites that drive our cult-like following while offering some delicious and exciting new choices to pique the interest of all who enter our doors. Welcome and thank you for choosing Hurricane.
---

by General Manager Paul Brick

Welcome back all. It's great to be back, although we could have done without the snow, ice and wind chills that greeted us on our return! Wine Show season is upon us and I will be attending five shows within the next week, so I guess I had better rest my palate for a day or two. (Naw, need to keep it in shape!) I am really looking forward to seeing what new items our purveyors have brought to this corner of the world for us to enjoy. Some of the things I will be looking for – to expand all our palates – are great wines at great values, expanding our Italian, French and Rhone varietal sections, as well as, some new and underutilized appellations. Portugal, South Africa, Sicily and even Virginia are places I will be looking for exceptional and value oriented juice.

Austria is another country I will be looking at as they produce some exceptional whites to pair with the tremendous variety of oysters we offer. Spain has been offering some fabulous wines and they will not escape my tasting glass! And of course I will work my way through the US: California, Washington, Oregon and even Maine! I am looking forward to working with Chef Jason to come up with the best pairings to compliment his great food and sharing them with you. Also this year we will offer a new By-the-Glass program: Every week we will offer a few of our higher-end wines – availability permitting – in either a two-ounce taste or full glass so you can enjoy these wines without having to break the bank for a full glass.

If there is something special you would like to try, but we haven't offered it, let me know and we will do our best to get it to you. So, figure out the way around Durell's Bridge Road and join us. We look forward to seeing you all again!

Cheers!
---
Sunday Brunch & the Famous Hurricane Bloody Bar Return!
Sunday Brunch returns to Hurricane Restaurant on April 22nd from 11:30 AM to 3:30 PM. Once again you'll find your favorite brunch dishes, as well as, artfully served Hurricane special creations every week. And our Sunday lunch and dinner menus are available all day. Bring the gang and make a bright, shiny day of it.
The Hurricane make-it-like-you-like-it Bloody Mary Bar was wildly successful last spring and is back by popular demand. Build your Bloody Mary just the way you like it with myriad choices of vodkas, juices and garnishes. Here's a toast to having it your way!
Regrets, Make Your Own Bloody Mary Bar will be unavailable on Easter Sunday. Thank you for your understanding.
---
Chowder Society double points every Monday!
Free Happy Hour munchies Monday thru Friday at 4 pm.
Buck-a-shuck oysters every Sunday night starting at 4 pm. Yes on Easter, too!
Fall 2016
Not Quite Summer, Not Quite Fall
It may be after Labor Day, but there's still some highlife left in the summer of 2016. And it's time to be thinking about fall, too. However you look at it, this could be one of the most beautiful times of the year in the great state of Maine. Hurricane Restaurant has enjoyed a most successful summer. We entertained cruise ships, past Presidents and First Ladies and a few celebrities, as well. Our weekend music nights have been tremendously popular and continue on into the fall. I hope you will take an opportunity or two to drop in for a selection from our award-winning wine list, your favorite cocktail – or one of our seasonal creations, our unique small-plate menu, an unforgettable entrée and, of course, a treat from our in-house pastry chef. At Hurricane our aim is to sate your palate from start to finish. And as we celebrate our 25th year, we remind you: Good restaurants come and go, great restaurants get better and better.
---
Sunday Brunch and the Famous Hurricane Bloody Bar Return!

Sunday Brunch returns to Hurricane Restaurant on September 11th from 11:30 AM to 3:30 PM. Once again you'll find your favorite brunch dishes, as well as, artfully served Hurricane special creations every week. And our Sunday lunch and dinner menus are available all day. Bring the gang and make a bright, shiny day of it.

The Hurricane make-it-like-you-like-it Bloody Mary Bar was wildly successful last spring and is back by popular demand. Build your Bloody Mary just the way you like it with myriad choices of vodkas, juices and garnishes. Here's a toast to having it your way!
---
Buck-A-Shuck Oysters Continue Every Sunday Starting September 11th
From 4 to 9:30 PM every Sunday we'll shuck any oyster available on ice at the Hurricane Oyster Bar. They come from Maine, New England, the West Coast and from all over the world. And each one is only $1. Additionally, the kitchen comes up with unique oyster dishes created specially for oyster night. If slurping ain't your thing, one of these dishes is sure to please your desire for deep-sea delights. Add your favorite beverage and watch the shells pile up.
---
New England Patriots Tailgate Party 1PM, October 2nd!
On October 2nd, the Patriots welcome the Buffalo Bills to Gillette Stadium for a Sunday Football matchup. Tom Brady is 25-3 against Buffalo in his career and needs one more win to tie Brett Favre (26 wins vs. Detroit) for most wins by a starting quarterback against a single opponent. Wear your Patriot pride and dash into Hurricane for our famous and fun Hurricane Tailgate Party. We'll have freebies, specials and gridiron surprises all afternoon until the clock runs out. Go Pats!
---
First Public Supper of the Fall Returns Tuesday Night, October 11th
As long as we've served Public Suppers at Hurricane the price has been $9.95, sans tip and tax. This is the best dining deal on the coast: Your choice from three specially prepared, comfort-food dishes with all the trimmings. The most popular is the baked-stuffed haddock with a lobster cream sauce. It's on the menu every week for $9.95! Our rotating menu features Hurricane meatloaf, mac & cheese and many, many more. Join your friends and neighbors for these very special Public Suppers every Tuesday night until Christmas. Did we mention they're just $9.95?
---
Saturday nights from 7 PM to 10 PM
the Hurricane bar lights up with the magic of music as New England's finest players and singers strum and croon your favorite melodies. We have had some surprise guests join in from time to time and the occasional sing-along breaks out, too. Our bar-food menu is always available, as well as our full menu of small plates and entrees. Add a glass of your favorite wine, beer or cocktail and join the chorus.
---
Seacoast Fall Restaurant Week Returns October 13th – 21st
Hurricane is proud to participate in this annual food fest featuring the finest restaurants on the Maine Coast. Here's the deal: Select an appetizer or salad, an entrée and a dessert from our fabulous menu and pay just $45.00. (Lobster dishes may be slightly higher, we're sure you understand why.) Here's your opportunity to try great restaurants at great prices. Get out there and explore. And get into Hurricane for more.
---
Prix Fixe Menu 5 to 6 PM Seven Days a Week

If you are an early bird, this deal's for you. Our prix fixe menu features many of our specialty dishes and daily specials for a full three course Hurricane experience. And for $30, excluding tax and tip, it's worth getting out early for. It's only from 5 to 6 PM, but it is seven days a week.
---
Two Wine Deals Every Wednesday Starting September 14th
The Hurricane award-winning wine list needs no introduction. We win awards every year. We serve the best wines available in all price ranges. The proof is in the tasting and we want you to have every opportunity to sample every wine on our list. Here are three easy ways to do it.
Deal #1: $10 Off any bottle of wine all day long on Wednesdays.
Deal #2: 50% Off any bottle of wine between 5 and 7 PM every Wednesday.
Bonus Deal: Any day of the week we will open any bottle of wine if you buy at least two glasses.
---
The Fall Harvest

This is a great time of year for Hurricane to source local produce and products. From tomatoes to ice cream we make every effort to buy local and create the freshest food creations on the Maine coast. Get in here frequently to see what's cooking.